Ethereum Classic 22 with market cap of $540,748,736.00 and today volume of 881,587,826, Ethereum Classic have total supply 230,000,000 and circulating supply of 113,775,856 . 7 day profit of Ethereum Classic is -25.31%.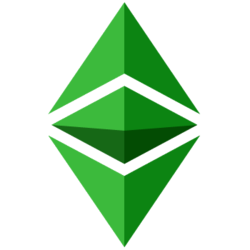 Volume(24h)
881,587,826.00
3 Comments
---
Tarun Kr
Those who would give up decentralization for convenience, will eventually have neither convenience or immutability. #Crypto
0 likes
8 months ago
---
Dennis Gogel
Very soon the market will be owned by the bulls and watch this soar
0 likes
1 year ago
---
Tu Nguyen
Ethereum Classic is an attempt at keeping the Ethereum blockchain unaltered by the part of the community that opposed the hard fork and the return of The DAO funds. It started trading on Poloniex and is getting more and more traction.
0 likes
1 year ago
---