Bitcoin Price Tumbles Below $20,000, The Lowest In One And Half Years
June 18, 2022
The Bitcoin price fell as low as $19,000 today, which marks the lowest price since November 2020. The overall crypto market has been faltering in response to inflation concerns and interest rate hikes. Investors are worried about the future of cryptocurrencies due to the ongoing war in Ukraine and other geopolitical issues.
The overall crypto market has been faltering given the failure to perform well of two popular cryptos, namely Celsius and Terra Luna. Celsius had prohibited trading its token, sending waves of unrest amongst crypto investors. Investors, fearing the further fall in crypto values, rushed to sell their holdings. Thus, the crypto market was already seeing a deep in the values of various cryptocurrencies.
According to R.A. Farrokhnia, a researcher at Columbia Business School who specializes in fintech, the dramatical sell-offs reveal how intertwined and intricate the cryptocurrency markets have become in recent years. This is evidenced by the fact that the markets have become increasingly volatile. According to him, the trend of investors moving their money into safer investments "creates a cascading effect on top of the contagion impact."
Bitcoin has always remained a favorite coin for everyone, so it has witnessed a massive elevation in its price. Statistics show that Bitcoin grew nearly 12 times to $64,000 from its value in March 2020 to November 2021. Bitcoin had surpassed the $20,000 price mark in November 2020, which was the highest price of that time.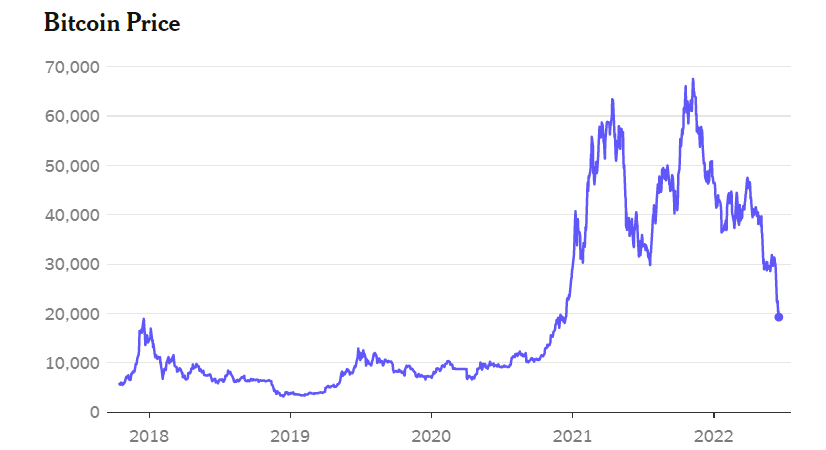 Nearly one and half years later, the Bitcoin price has tumbled below the $20,000 mark. The deep in the Bitcoin value has washed out more than $900 billion since its peak value, $20,000, in November 2020.
It's no surprise that Bitcoin saw such a massive increase in value over the last year. However, now that prices have dropped so much, many investors may be hesitant to invest in any new coins, especially if they're worried about losing money on their investments.
Bitcoin and other cryptocurrencies rode the wave of popularity during the lockdown period. It further got a boost after El-Salvador legalized Bitcoin as a mode of payment. The massive ad campaigns and a feature to start investing in Bitcoin and other cryptos at a fraction of any coin's value attracted many global investors' interest.
At the same time, the thriving cryptonomy also encouraged Fortune 500 companies to be more welcoming to the cryptos. As a result, Paypal and its subsidiary firm Venmo had allowed their customers to invest and trade in cryptos using their platform. On the other hand, Goldman Sachs and Morgan Stanley had declared that they would offer their wealthy customers access to cryptocurrency funds.
Even if there was a rise in the popularity of investing in cryptocurrencies, Bitcoin did not become widely accepted as a way of conducting day-to-day business. Its price fluctuations are unpredictable, and its trending higher has made holding it over the long term more beneficial.
In a field known as decentralized finance, sometimes abbreviated as Defi, businesses have developed complex systems to lend money to customers or enable individuals to use their Bitcoin holdings as collateral.