5 Reasons Why Catecoin Will Become Next Shiba Inu?
December 7, 2021
The craze of different cryptocurrencies is helping millions of investors to gain good returns. Cryptocurrencies have always been fantasized by investors and have changed the entire realm of investments and earning returns. In this tough race of cryptocurrencies, meme coins and tokens are leading in several factors. Meme coins were invented to give a new direction to the meme world and allow meme creators to create and earn with memes. Catecoin is one such meme coin that is expected to surge in the forthcoming.
Catecoin and Shiba Inu
Catecoin is often compared with the Shiba Inu. Shiba Inu is the dog-themed meme coin that is leading the charts of cryptocurrencies. It's not long since Shiba Inu was introduced to the market and has witnessed a huge spike since then. Investors have had a keen attention to the highs and lows of the coin and are looking for ways to earn more through this meme coin. Shiba Inu has been successful to gain the position among the leading top 100 coins. While on the contrary, the cat-themed meme coin is still struggling to make a place in the top 200. But the things seem to take an about-turn soon.
Catecoin is a decentralized cat-themed meme coin that was created with a motive to give a new direction to the meme creators. It was launched to allow the meme creators to earn by creating memes and earning likes and comments on the. It's no longer that catecoin was introduced to the market and has been buzzing since then. At present, Catecoin has 35% tokens reserved for the Staking Rewards and Meme contest. Catecoin will allow the users to convert their memes into NFT and earn CATE tokens. 
The most impressive thing about Catecoin is that it has a few additional and notable features that are not found in Shiba Inu and thus there are great chances that Catecoin can be a part of the next cryptocurrency surge. In the underlying article, there are the top 5 reasons that ensure that it may attain massive growth similar to Shiba Inu.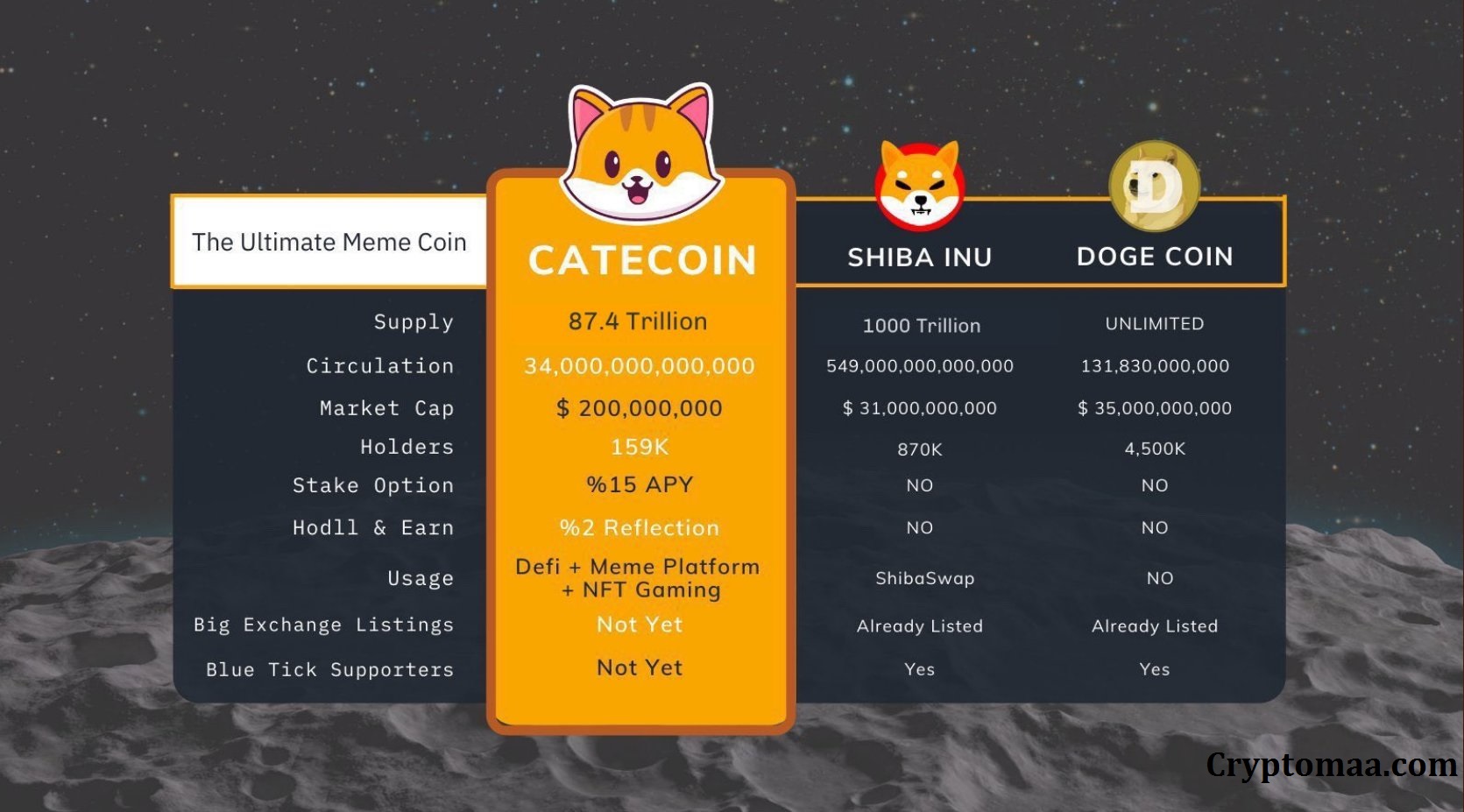 Only Cat Themed Token:
The market is flooded with numerous tokens that rise and fall each day. Along with cryptocurrencies, numerous tokens and coins are being launched. Some witness growth while other fall. In this entire game, dog-themed coins are ruling over. At present, there are three dog-themed meme coins including Shiba Inu in the competition. And the thing to note is that all these coins are under the top 100 list. Catecoin on the contrary doesn't even stand in the top 200 list. And thus, investors are more likely to focus on catecoin. It shows that it can pick up great success in the near future. 
Newly launched meme coins:
Shiba Inu, Dogecoin, and other meme coins are old enough to top the charts. These coins took around two years to reach the top and secure their position in the market. Catecoin is launched only a few months back. And investors are keeping an eye on it since then. The next target of investors is Catecoin as it has great potential and features that can lead it to the top charts. Besides, being a new coin, everyone's attention is on this coin.  
Stable earning option:
No other meme coin offers stable earning like Catecoin. If you stake the catecoin, you can earn 15% of annual interest. Besides, if you just purchase and keep the Catecoin with you, you can earn 2% from all Catecoin dex trading volume. It is distributed among all stakes depending on their shares. And thus, these earning options of Catecoin can modify the charts and allow the Catecoin to surge to an extreme level.
Defi and Gamefi:
Catecoin is not only a single option for meme creators to learn and earn through this cat-based token. It has launched different dapps and platforms that allow you to earn more. Besides, the meme platform generates more ways to earn tokens and get great returns through this coin. The dapps by Catecoin offers a use case for the coins. The games help you earn more tokens of the Catecoin and use it according to your purpose. 
Engaged Community:
The most crucial factor that describes the progress of the token is how the community reacts to it. Catecoin has a huge fan following and an active community that can turn the charts upside down. Catecoin has a following of more than 70K on Twitter followers and is managing more than 150K wallets. It indicates that the investors are all set for the surge and are engaged in the activities of the coin. 
To sum up, Catecoin has all the features that are needed to attract the attention of investors. Besides, all the investors from across the globe are looking forward to the progress of Catecoin as they did with Shiba Inu. Shiba Inu today has earned massive growth and is still in the progress. And thus, Catecoin can dethrone Shiba Inu soon.